Local news and What's On from Thurrock. Your town in your pocket.
By Neil Speight
22nd Sep 2022 | Local News
(Updated: 3 Hours, 33 minutes ago)
MORE than two years after planning councillors gave the green light for a new leisure complex and retirement village on the site of Langdon Hills Golf Club – a decision later backed up by the Secretary of State for Planning – work may be about to begin.
The controversial scheme, which will see the creation of 150 new homes and a leisure complex on the site of one of the existing golf complex's nine hole courses, first went before the council in 2019.
Under the plans, there will be a 64-bed care home with dementia facilities, apartments and bungalows for independent living for the over 55s, homes for care workers and a range of leisure facilities including a new golfing academy, a swimming pool, gym, and spa.
It took more than a year before the project was considered by planning councillors, who rejected officer advice to oppose it and gave approval. That meant, under the council's constitution, it had to go back for a second debate when officers could again put their case – and after a short delay – when they did, the councillors again overruled them.
Councillors were warned by the authority's solicitor that they were putting the council at risk by granting an unlawful application and that the government were likely to throw it out. That advice, delivered in the most strongly-worded of opinions from the council's legal eagle Caroline Robins proved to be incorrect.
She has offered what has subsequently proved to be flawed advice on a number of projects in recent times.
Most recently she clashed with elected members' views when she warned them a decision to reject a planned new school in Aveley would be unlawful too. In the wake of that advice councillors' opposition crumbled and the scheme got the green light despite much local opposition and damning words from local ward councillors who said the school is just part of a wider scheme to build new homes in the village.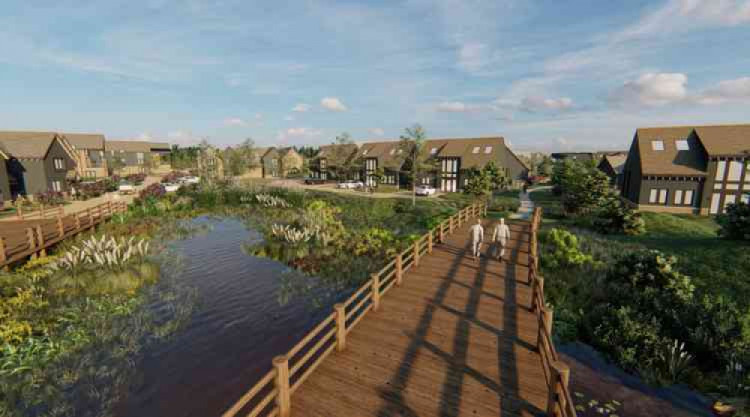 An image of the new retirement village.
In November 2020 the Secretary of State approved the scheme at Langdon Hills and through informed sources Nub News was told the government had warned Thurrock Council that its objection to schemes such as the Langdon Hills one was bad practice.
The council denied they had been warned and shrugged off concern that the government might have to step in over its poor levels of performance – perhaps an early forerunner of the intervention from government earlier this month that has already seen senior officers removed from their positions!
Despite the green light from government in November 2020, council officers appeared to bunker down and, possibly through spite at being overruled, delay and procrastinate over completing the paperwork on the new scheme.
On November 11 2020 the council had said: "The Langdon Hills application will now be formally approved by Thurrock Council, in accordance with the resolution of the planning committee, and subject to conditions and the prior completion of a section 106 agreement."
Only yesterday (Wednesday, 21 September), 675 days after being told to give the scheme the green light, was pen finally put to paper and approval issued. The letter and full details of the scheme can be read here.
Share:
Ambulance chief says service will recruit 60 advanced paramedics in bid to cut shocking waiting times
Second bid for new home on plot in Tilbury street
Friday 23rd September
Friday 23rd September
Friday 23rd September
Find out how to
SPONSOR / ADVERTISE
with
Thurrock Nub News
Nub News is a member of the Independent Press Standards Organisation (which regulates the UK's magazine and newspaper industry). We abide by the Editors' Code of Practice and are committed to upholding the highest standards of journalism. If you think that we have not met those standards and want to make a complaint, please click here to contact us. If we are unable to resolve your complaint, or if you would like more information about IPSO or the Editors' Code, contact IPSO on 0300 123 2220 or visit www.ipso.co.uk
© 2018-2022. All Rights Reserved. Nub News. | About | Contact | Privacy | Disclaimer
Subscribe now for weekly updates of local news and sport from your town. Plus what's on near where you live – and local homes for sale. All delivered straight to your in-box, every Friday.
We won't pass your details on to anyone else. By clicking the sign-up button you agree to our Privacy Policy.
This website uses cookies to ensure you get the best experience on our website.