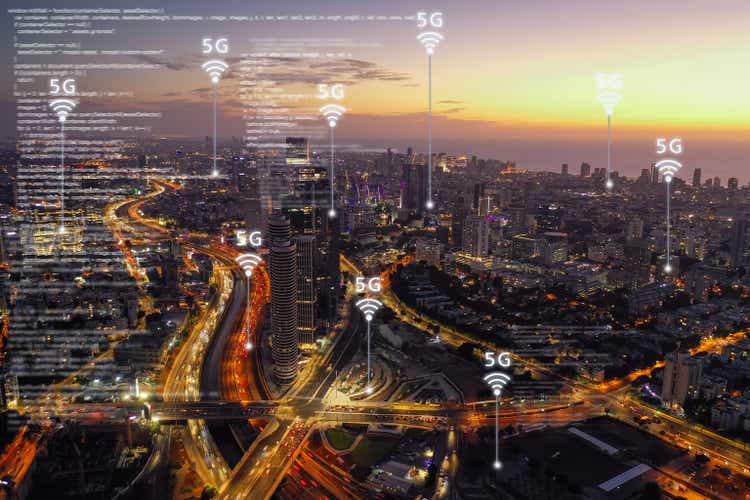 alexsl
Ceragon Networks Ltd. (NASDAQ:CRNT) operates in the growing 5G industry, and appears to offer networks to a significant number of international clients. If we also take into account the CRNT's just-in-time manufacturing strategy and the new clients recently announced, I believe that the business is interesting. I ran a discounted cash flow model, which resulted in a fair valuation that appears larger than the current market price. Yes, there are risks from a changing General Data Protection Regulation, lack of development, or competitors. With that, I believe that Ceragon trades at an undervalued price.
Ceragon's products work through Wi-fi and fiber optics. In addition, the company trades licensed and unlicensed software along with different IP platforms with a large number of variables. With the aim of improving efficiency and providing top-quality technological support, the company also offers the service of installing or transferring old networks to 5G networks.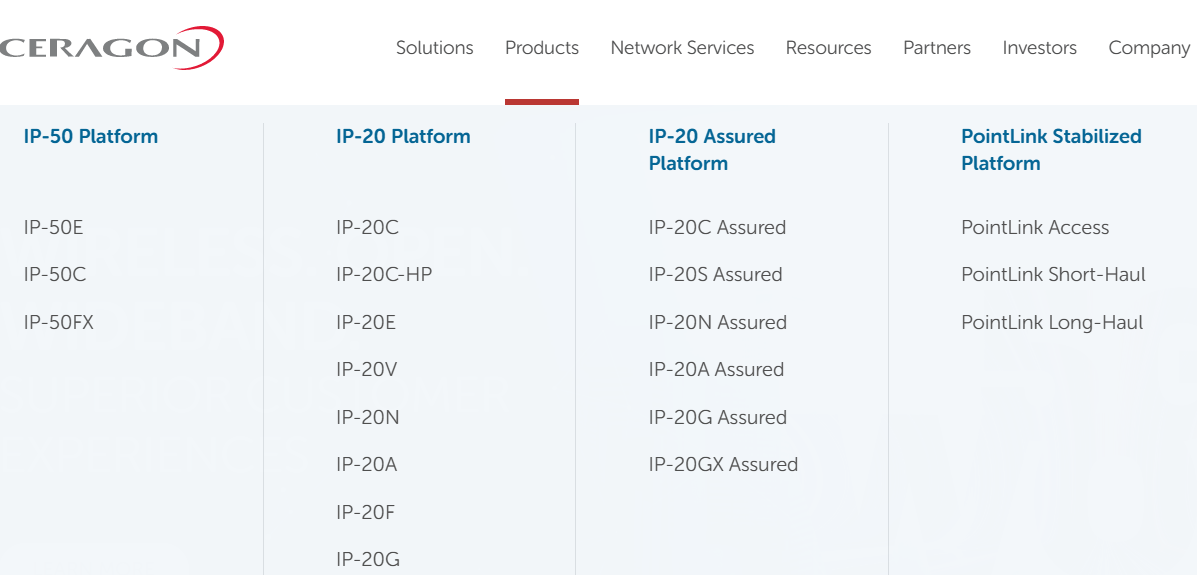 Source: Company's Website
Ceragon's products include applications for many industries. Take for instance PointLink Long-Haul, which clients in the oil and gas industry could use for off-shore operations.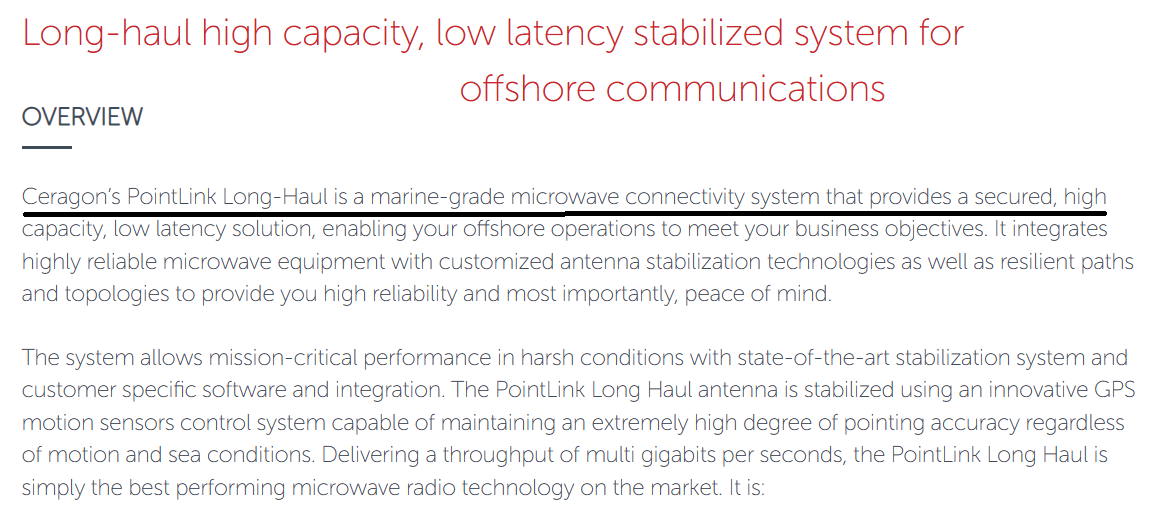 Source: Company's Website
The company's NetMaster Network Management solutions offer the ability to cost-efficiently manage thousands of network elements. According to management, the product is very useful for network supervisors, field engineers, and maintenance staff.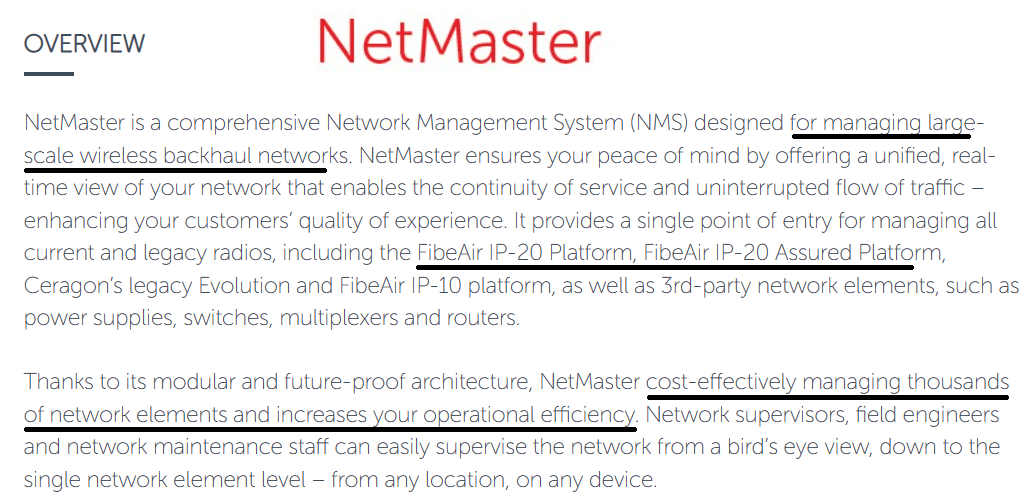 Source: Company's Website
Ceragon also offers the administration and management of connectivity networks, supported mainly by artificial intelligence systems, which work together with its engineers and data analysts to detect complications and solve conflicts with immediate availability.
Ceragon's frequent customers are large companies and administrators of network services from different industries, including technology, information technology, and audiovisual media among others. I believe that Ceragon reports a significant number of clients from different industries, which appears quite beneficial.
The company operates in many regions. Among the 150 countries where Ceragon has active operations, more than 400 companies are contracting the network service, and 800 private networks are installed. The following is a table obtained from the last annual report.

Source: Annual Report
I believe that the expectations of other financial analysts are beneficial. They expect net sales of $356 million by 2024 in addition to an EBITDA of $27.3 million. 2024 operating profit would stand at $39.3 million together with an operating margin of 11%. Finally, 2024 net income would stand at $8.26 million. Let's keep in mind that management reported losses in 2019, 2020, and 2021. In my view, reporting positive results could bring some equity demand.

Source: Marketscreener.com
As of September 30, 2022, management reported cash worth $25.964 million and trade receivables of $109.969 million. Inventories were worth $64.227 million with total current assets of $216.733 million. Total current assets are larger than current liabilities, so I wouldn't see a liquidity risk here.
Property and equipment stood at $30.160 million, with total non-current assets of $85.603 million and total assets of $302.336 million. The asset/liability ratio stands at close to 2x, so I would say that the company's balance sheet appears stable.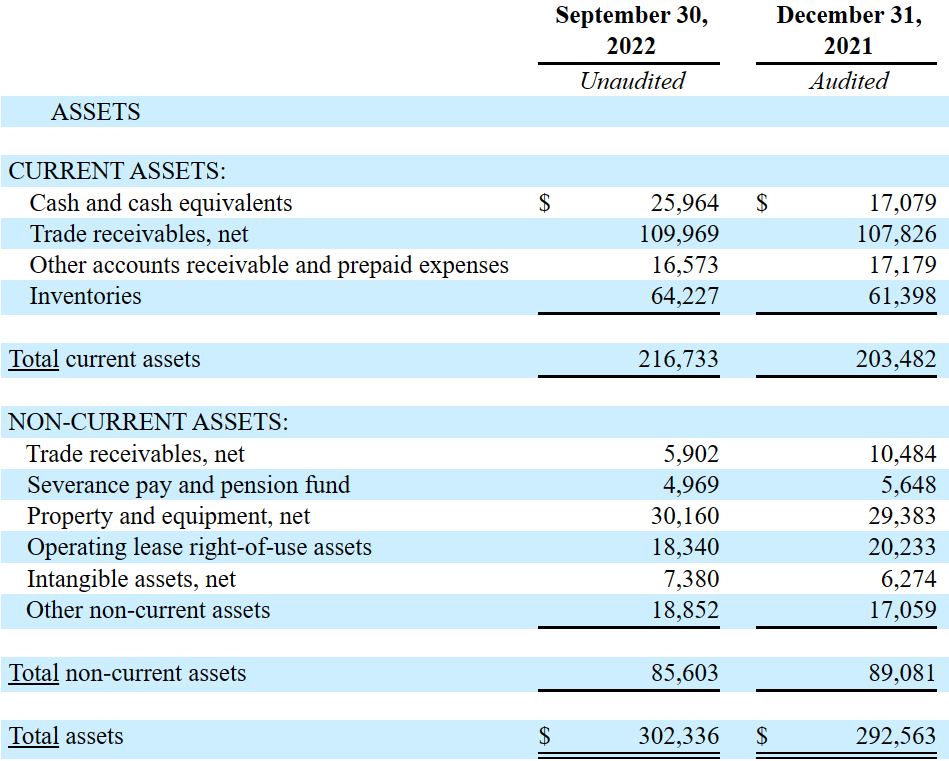 Source: 10-Q
Liabilities include a trade payable of $72.076 million with short term loans of $29.900 million. Deferred revenues were equal to $10.895 million, with operating lease liabilities of $13.449 million and total long term liabilities of $36.181 million.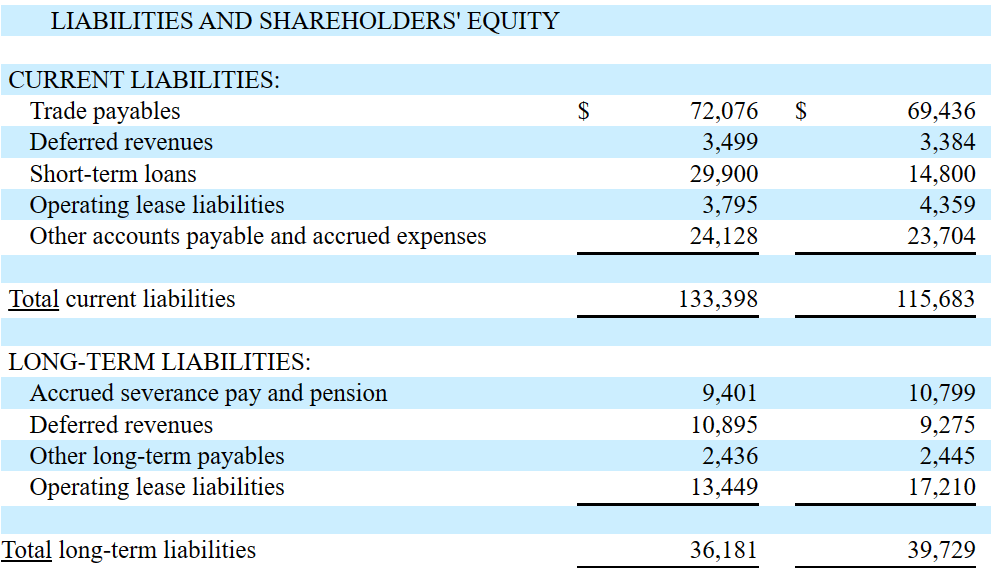 Source: 10-Q
I am quite optimistic about the company's just-in-time manufacturing strategy, which management mentioned in the last annual report. In my view, lower manufacturing costs and an improvement of efficiency will likely bring higher free cash flow margin. As a result, I believe that the company's fair valuation could increase.
With the goal of streamlining all manufacturing and assembly processes, we have implemented an outsourced, just-in-time manufacturing strategy that relies on contract manufacturers to manufacture and assemble circuit boards and other components used in our products and to assemble and test indoor units and outdoor units for us. The use of advanced supply chain techniques has enabled us to increase our manufacturing capacity, reduce our manufacturing costs and improve our efficiency. Source: 20-F
I would also expect new partners and clients to sustain Ceragon's revenue growth. Let's keep in mind the new agreement with Yuba Water Agency, which may mean more revenue in the coming years.
Yuba Water Agency selected Ceragon to modernize their network, providing reliable connectivity for their personnel, dams, hydroelectric facilities, and more. Source: Case Study: Yuba Water Agency Modernizes Network
It is also worth noting that the police and fire forces expect to modernize their network systems. Management already reported a new case, in which one of these organizations elected Ceragon to design their network.
First responders around the globe are modernizing their communications network so that they can rely on always-on, reliable, pervasive coverage that supports video and other high-bandwidth applications. Read about this U.S. township who chose Ceragon solutions to provide their police and fire forces with high-capacity connectivity across their municipality and beyond. Source: Case Study: Protecting People & Property With Reliable Connectivity
My forecast for 2032 includes net sales of $612 million with net sales growth of 7%. In addition to an EBITDA of $37 million accompanied by an EBITDA margin of 6%, 2032 free cash flow could be close to $12 million. 2032 FCF margin would stand at 2%.
If we also assume an EV/EBITDA multiple of 12x, the sum of future discounted free cash flow and the discounted terminal value would stand at $200 million. If we also add cash of $25 million, and subtract debt and pension obligations worth $38.4 million, the implied price would be $2.2 per share.

Source: Chatool's DCF Model
Ceragon will likely have to deal with unexpected changes in legal regulations, in the USA as well as Israel, and variations in exchange rates since the technology and telecommunications industry necessarily works with imported materials and microcomponents. If management has to invest a bit more in capex to redesign its manufacturing facilities, I would expect lower free cash flow.
The regulatory framework for data and privacy protection issues is evolving worldwide, including the imposition of more comprehensive data protection requirements under the General Data Protection Regulation, which imposes stricter obligations and provides for greater penalties for noncompliance. These laws and regulations constantly evolve and remain subject to significant change. In addition, the application and interpretation of these laws and regulations are often uncertain. New data protection and privacy laws and regulations add additional complexity, requirements, restrictions and potential legal risk, require additional investment in resources to compliance programs, and could result in increased compliance costs and/or changes in business practices and policies. Source: 20-F
Ceragon is facing drastic changes or innovative revolutions regarding the 5G industry. Ceragon's competitors maintain open investigations and million-dollar investments for the development of 5G technologies. Ceragon also noted in the last annual report that the unpredictability in access to materials and microcomponents, due to the excessive increase in demand for them, can play a fundamental role in the stability of its business model.
Since Ceragon may not have diversified its technological offers, except for the segmentation between wireless and fiber optic networks, the success of its business model depends almost exclusively on contracting this type of technology. In my view, if the transformation and adaptation of the networks is delayed, the projected growth of Ceragon may be delayed.
Under this case scenario, I assumed 2032 net sales of $538 million together with a net sales growth of 5%. 2032 EBITDA would be around $35 million with an EBITDA margin of 6.55%. I also expect free cash flow of $1 million with a FCF margin of 0.3%.
By assuming an EV/EBITDA multiple of 10.5x, I obtained a terminal value of $370 million, which would, with a WACC of 10%, imply an enterprise value of $137 million. The equity valuation would stand at $124 million. Finally, the fair price would stand at $1.5 per share.

Source: Chatool's DCF Model
Ceragon operates in the growing 5G industry, and management recently noted just-in-time manufacturing strategy, which may enhance FCF generation. The company also recently announced new clients like first responders, and appears to have access to a number of countries, which multiplies the company's target market. In my view, there are risks from changing regulatory frameworks or lack of development, but I don't think they would justify the company's current valuation. I believe that Ceragon is undervalued.
This article was written by
Disclosure: I/we have a beneficial long position in the shares of CRNT either through stock ownership, options, or other derivatives. I wrote this article myself, and it expresses my own opinions. I am not receiving compensation for it (other than from Seeking Alpha). I have no business relationship with any company whose stock is mentioned in this article.