Scan to Download iOS&Android APP
By Rob Griffin
Edited by Jekaterina Drozdovica
09:09, 20 December 2022
Luxury fashion group Lanvin (LANV) endured a rollercoaster debut on the New York Stock Exchange (NYSE) but is focused on growing its portfolio of brands.
The China-based business saw its stock price more than double within hours from $10.20 to $22.81, ending its first day of trading – 15 December – down at $7.63. Meanwhile, Lanvin's parent company Fosun International (0656) saw its shares fall slightly on the day of Lanvin's floatation, yet rising over 4% a day later.
Fosun International (0656) live stock price
What's next for Lanvin, which manages an impressive line-up of popular brands, including Lanvin and Italian shoemaker Sergio Rossi? Will LANV stock end the 2022 on a high or will broader economic concerns act as a dampener on performance as we approach the new year?
In this Lanvin Group stock forecast, we take a look at the business, assess its prospects, and outline the views of analysts.
Lanvin group was founded in 2017 by Fosun International Limited to capitalise on the growing global demand for luxury fashion.
Fosun is a consumer group co-founded by Chinese businessman and investor Guo Guangchang. It listed on the Hong Kong Stock Exchange (HKEX) in 2007 and trades under the ticker 00656.HK.
The Lanvin Group rebranded from Fosun Fashion Group in October 2021 to align it more with Lanvin's entrepreneurial creator, Jeanne Lanvin.
Its portfolio of brands include the flagship Lanvin, which was originally founded in Paris by Jeanne Lanvin in the late 1800s.
There's also Italian shoemaker Sergio Rossi, Austrian skinwear specialist Wolford, US womenswear brand St. John and Caruso, which specialises in high-end menswear.
Bullish Bearish
81% 19%
You voted bullish.
You voted bearish.
Give 0656 a try
A key point in our Lanvin Group stock forecast was the business beginning to trade on the NYSE on 15 December 2022 under the ticker LANV.
It was made possible by the merger of Lanvin with Primavera Capital Acquisition Corporation, a special purpose acquisition company (SPAC).
According to Ms. Joann Cheng, Lanvin's chairman and chief executive, going public was "a natural step" for the group. "We have built an iconic portfolio of heritage brands and recorded strong growth over recent years," she said.
The company's strategy is to drive "continuous organic growth" through geographic, channel and product expansion for its brands, combined with "disciplined investment" in the luxury fashion sector.
"Against a background of proven resilience in the luxury market, we are confident that this strategy will enable us to deliver sustained long-term growth and value for our shareholders," she added.
Any LANV stock forecast must consider that it's very early days. The LANV stock price initially enjoyed a spectacular debut on the NYSE on 15 December 2022.
Within hours it had more than doubled from $10.20 to $22.81 after the high profile listing caught the imagination of investors.
The LANV stock price then gradually slipped during the course of its first day of trading and ended up closing down at $7.63.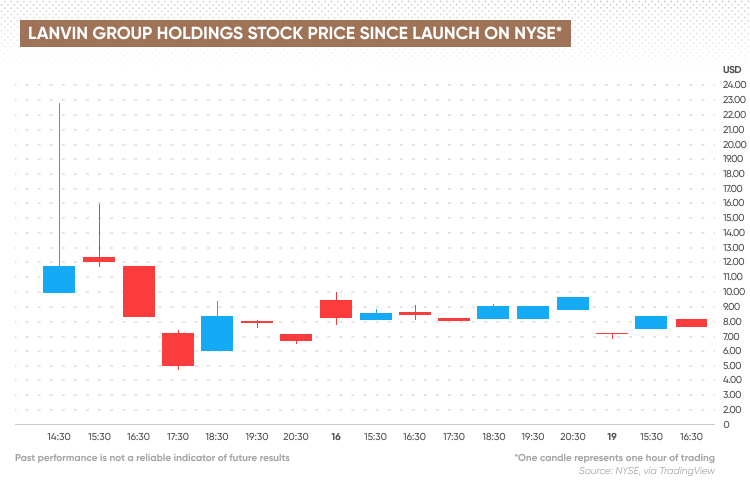 The following day, however, was better. The stock opened at $9.74 and ended its second day as a quoted business at $10. This represented a 31% increase over the previous day's close.
The Lanvin flotation has been positive for Fosun stock, which had risen 10.7% to HK$6.2 over the past month to market close on 16 December 2022.
The company's most recently published results for the six months to the end of June 2022 showed a 73% year-on-year revenue increase of €202m ($214m).
AMZN
TSLA
AAPL
AMC
In a statement, Ms. Joann Cheng, Lanvin's chairman and chief executive, said the group "continues to deliver on its strategy", with record first half results and momentum continuing to build.
The company said its performance in the first half of 2022 was marked by an "exceptional phase of growth", building on the strong momentum achieved in 2021.
Lanvin's revenue was fuelled by "outstanding growth in Europe and North America", where revenue grew 91% and 58% year-over-year respectively.
It declared this to be a testament to the group's solid foundation in its five brands' home turf and the success of its global growth strategies. It added:
It's also worth bearing in mind the current outlook when considering the Lanvin Group stock forecast for 2023.
As far as the LANV stock forecast for the next 12 months is concerned, the company's management believes consumer appetite for premium quality goods remains strong and resilient.
"The group will continue to execute its proven strategies to deliver sustained growth and create long-term value for shareholders against ongoing macroeconomic and geopolitical uncertainties," it stated.
Our Lanvin Group share price forecast needs to bear in mind wider demand. On this point there appears to be some optimistic news.
The global luxury market was projected to grow by 21% this year, reaching a market value of €1.4trn, according to the Bain & Company–Altagamma Luxury Study.
The report predicted further expansion in sales and market value for such goods over the coming year and decade – despite the expected recessionary conditions.
Claudia D'Arpizio, lead author of the study, said:
What are analysts' Lanvin Group stock predictions? Danni Hewson, financial analyst at AJ Bell, told Capital.com that people remained concerned about the wider economic environment
"Lanvin's bosses are hoping to take advantage of a resilient high end consumer but despite initial excitement at the stocks New York debut investors are still running scared of retail," she said.
Hewson pointed out that the sector had been "battered by a scorching hot inflationary environment" and a landscape that is still shifting post-Covid, adding:
However, she also acknowledged that there were positives:
Elsewhere, Jay R Ritter, eminent scholar at the Warrington College of Business at the University of Florida, raised concerns.
In a Lanvin Group stock forecast, he warned that swings in supply and demand could "push the price around", as there were so few shares of the company available for public trading. He added:
This makes it difficult to accurately predict a Lanvin Group stock forecast for 2025. The company's prospects could depend on its own performance and the wider economic backdrop.
Note that analysts' Lanvin Group stock predictions may be wrong and shouldn't be used as substitutes for your own research. Always conduct your own due diligence before trading, looking at the latest news, technical and fundamental analysis, and a wide range of analyst commentary.
Remember, past performance does not guarantee future returns. And never trade more money than you can afford to lose.
Whether Lanvin Group is a good stock for you to buy should depend on your opinion of the company and your own investment objectives. Remember, it's very important to reach your own conclusion of the company's prospects and likelihood of achieving analysts' targets. Past performance does not guarantee future returns. And never trade more money than you can afford to lose.
No-one knows for sure and it's also very early days for LANV stock. On its first day of trading – 15 December, 2022 – it initially doubled in value before closing down below its opening price.
That is down to your view of the company and its future prospects. You will need to draw your own conclusions and not rely solely on the views of analysts. Your long-term investment goals and attitude to risk must play a part in your decision. Past performance does not guarantee future returns. And never trade more money than you can afford to lose.
Rate this article
Rate this article:
Share this article
Comment
Rate this article
Rate this article:
Share this article
There are currently no responses for this story.
Be the first to respond.
Most traded
Most traded
Most traded
Most traded
Most traded
Most traded
Join the 480.000+ traders worldwide that chose to trade with Capital.com
Also you can contact us: call +44 20 8089 7893 • [email protected]
CFDs are complex instruments and come with a high risk of losing money rapidly due to leverage. 87.41% of retail investor accounts lose money when trading CFDs with this provider. You should consider whether you understand how CFDs work and whether you can afford to take the high risk of losing your money. Risk Disclosure Statement
The value of shares and ETFs bought through a share dealing account can fall as well as rise, which could mean getting back less than you originally put in. Past performance is no guarantee of future results.
Risk warning: сonducting operations with non-deliverable over-the-counter instruments are a risky activity and can bring not only profit but also losses. The size of the potential loss is limited to the funds held by us for and on your behalf, in relation to your trading account. Past profits do not guarantee future profits. Use the training services of our company to understand the risks before you start operations.
Capital Com SV Investments Limited is regulated by Cyprus Securities and Exchange Commission (CySEC) under license number 319/17. Capital Com SV Investments Limited, company Registration Number: 354252, registered address: 28 Octovriou 237, Lophitis Business Center II, 6th floor, 3035, Limassol, Cyprus.
Start trading on 0656.